Subaru Forester: Engine oil / Changing the oil and oil filter
Change the oil and oil filter according to the maintenance schedule in the "Warranty and Maintenance Booklet". The engine oil and oil filter must be changed more frequently than listed in the maintenance schedule when driving on dusty roads, when short trips are frequently made, or when driving in extremely cold weather.
NOTE
Changing the engine oil and oil filter should be performed by a well-trained expert. Contact your SUBARU dealer for changing the engine oil and oil filter. Fully trained mechanics are on standby at a SUBARU dealer to utilize the special tools, spare parts and recommended oil for this work, and also, used oils are properly disposed of.
If performing oil replacement yourself, observe the local regulations and dispose of waste oil properly.
Park the vehicle on a level surface and turn the ignition switch..
CAUTION Use only engine oil with the recommended grade and viscosity. Refer to "Engine oil". NOTE Engine oil viscosity (thickness) affects fuel economy...
Other information:
Check on a daily basis that the tires are free from serious damage, nails, and stones. At the same time, check the tires for abnormal wear. Inspect the tire tread regularly and replace the tires before their tread wear indicators become visible...
Users can be registered in the Driver Monitoring System, and registered users can be deleted. For the user registration and delete procedures, refer to "Driver Monitoring System settings". NOTE When the Driver Monitoring System OFF indicator, Driver Monitoring System temporary stop indicator, or Driver Monitoring System warning is illuminated, the following items cannot be selected...
Categories
Turn the ignition switch to "ON".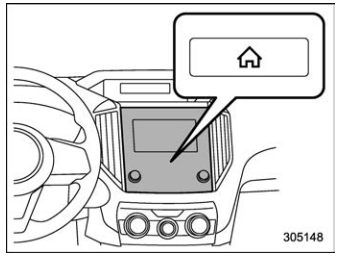 Press the

button. Select "Settings". Select "Vehicle". Select "Time/Date" and then select "Manual".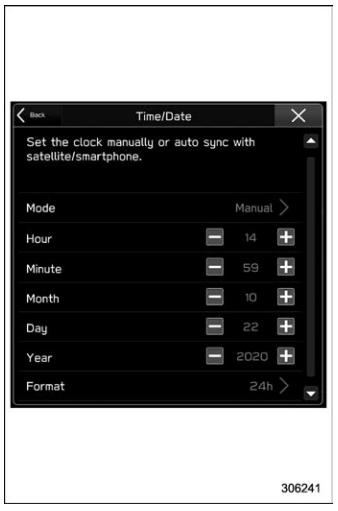 Set the each items plus and minus. Select

to complete the clock setting.