Subaru Forester: Cooling system / Engine coolant
Checking the coolant level
WARNING
Never attempt to remove the radiator cap until the engine has been shut off and has cooled down completely. Since the coolant is under pressure, you may suffer serious burns from a spray of boiling hot coolant when the cap is removed.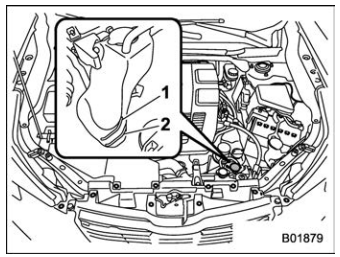 "FULL" level mark
"LOW" level mark
Check the coolant level at each fuel stop.
Check the coolant level on the outside of the reservoir while the engine is cool.
If the level is close to or lower than the "LOW" level mark, add coolant up to the "FULL" level mark. If the reserve tank is empty, remove the radiator cap and refill coolant up to just below the filler neck as shown in the following illustration.

Fill up to this level.

After refilling the reserve tank and the radiator, reinstall the cap and check that the rubber gaskets inside the radiator cap are in the proper position.
CAUTION
Be careful not to spill engine coolant when adding it. If coolant touches the exhaust pipe, it may cause a bad smell, smoke, and/or a fire. If engine coolant gets on the exhaust pipe, be sure to wipe it off.
Do not splash the engine coolant over painted parts. The alcohol contained in the engine coolant may damage the paint surface.
Changing the coolant
It may be difficult to change the coolant. Have the coolant changed by your SUBARU dealer if necessary.
The coolant should be changed according to the maintenance schedule in the "Warranty and Maintenance Booklet".
WARNING Do not operate the engine with the air cleaner element removed. The air cleaner element not only filters intake air but also stops flames if the engine backfires...
Other information:
Sensors The radar sensors, one on each side of the vehicle, are mounted inside the rear bumper. To ensure correct operation of the BSD/RCTA, observe the following precautions. Always keep the bumper surface near the radar sensors clean. Do not affix any stickers or other items on the bumper surface near the radar sensors...
Rotate the key toward the front to lock. Rotate the key toward the rear to unlock. In this case, only the driver's side door is locked or unlocked. NOTE Models with "keyless access with push-button start system": The emergency key is directional...
Categories
The outside temperature is displayed on the multi-function display (color LCD).
NOTE
The outside temperature indicator shows the temperature around the sensor. However, the temperature may not be indicated correctly or the update may be delayed in the following conditions. While parking or driving at low speeds When the outside temperature changes suddenly (example: when going in and out of an underground parking area or when passing through a tunnel) When starting the engine after being parked for a certain period of time The temperature unit cannot be changed.