Subaru Forester: Loading your vehicle / GVWR and GAWR (Gross Vehicle Weight Rating and Gross Axle Weight Rating)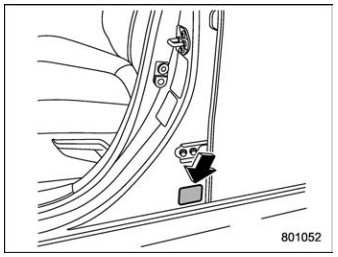 Certification label
The certification label attached to the bottom of driver's side door pillar shows GVWR (Gross Vehicle Weight Rating) and GAWR (Gross Axle Weight Rating).
The GVW (Gross Vehicle Weight) must never exceed the GVWR. GVW is the combined total of weight of the vehicle, fuel, driver, all passengers, luggage, any optional equipment and trailer tongue load. Therefore, the GVW changes depending on the situation. The GVWR equals Curb Weight (actual weight of your vehicle – including standard equipment, fluids, emergency tools and spare tire assembly) plus the vehicle capacity weight.
In addition, the total weight applied to each axle (GAW) must never exceed the GAWR. The front and rear GAWs can be adjusted by relocating luggage inside the vehicle.
Even if the total weight of your luggage is lower than the vehicle capacity weight, either front or rear GAW may exceed the GAWR, depending on the distribution of the luggage.
When possible, the load should be evenly distributed throughout the vehicle.
If you carry heavy loads in the vehicle, you should confirm that GVW and front and rear GAWs are within the GVWR and GAWR by putting your vehicle on a vehicle scale, found at a commercial weighing station.
Do not use replacement tires with a lower load range than the originals because they may lower the GVWR and GAWR limitations. Replacement tires with a higher load range than the originals do not increase the GVWR and GAWR limitations.
Vehicle placard The load capacity of your vehicle is determined b..
Roof rails Cargo can be carried on the roof after securing the crossbars to the roof rails and installing an appropriate carrying attachment. When installing crossbars and a carrying attachment, follow the manufacturer's instructions...
Other information:
New transmitters can be programmed to the remote engine start system in the event that a transmitter is lost, stolen, damaged or additional transmitters are desired (the system will accept up to eight transmitters). New remote engine start transmitters can be programmed according to the following procedure...
WARNING To prevent the passenger from sliding under the seatbelt in the event of a collision, observe the following precautions: Keep the seatback in the upright position while the vehicle is in motion. Do not place objects such as cushions between the passenger and the seatback...