Subaru Forester: Driving information display / How to change the information display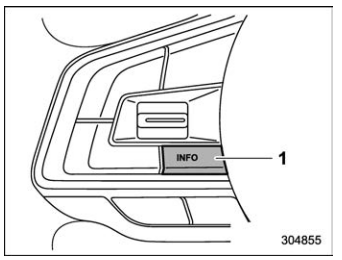 INFO button
Pressing the INFO button on the steering wheel switches changes the display to the following sequence.
*1: Models without combination meter display (color LCD)
When setting the displayed unit as MPH When setting the displayed unit as km/h The driving range indicates the distance that can be driven taking into account the amount of fuel remaining in the tank and the average rate of fuel consumption...
Other information:
Close the driver's door. Hold the access key fob and press and hold the "SET" button, then press the button on the access key fob. A chirp will sound, and the registered seat position will be cleared. NOTE After deleting the seat position, wait for a few moments before registering a new seat position...
Release the parking brake and put the transmission in the neutral position. The ignition switch should be in the "ON" position while the vehicle is being towed. Take up slack in the towline slowly to prevent damage to the vehicle. WARNING Never turn the ignition switch to the "LOCK"/"OFF" position while the vehicle is being towed because the steering wheel and the direction of the wheels will be locked...
Categories
The outside temperature is displayed on the multi-function display (color LCD).
NOTE
The outside temperature indicator shows the temperature around the sensor. However, the temperature may not be indicated correctly or the update may be delayed in the following conditions. While parking or driving at low speeds When the outside temperature changes suddenly (example: when going in and out of an underground parking area or when passing through a tunnel) When starting the engine after being parked for a certain period of time The temperature unit cannot be changed.