Subaru Forester: Mirrors / Inside mirror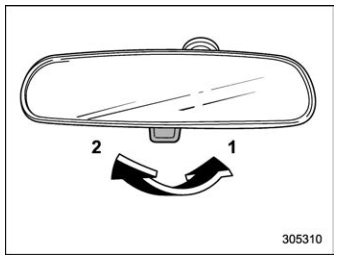 Normal position
Anti-glare position
Push the tab on the mirror for normal use. To reduce glare from the headlights of the vehicle behind you, pull the tab to the antiglare position.
Display HomeLink Buttons Switch During nighttime driving, the auto-dimming feature senses distracting glare from vehicle headlights behind you and automatically dims to eliminate the glare and preserve your vision...
Other information:
To change the setting of your vehicle's alarm system for activation or deactivation, do the following. Disarm the alarm system. Refer to "Disarming the system". Sit in the driver's seat and shut all doors, the rear gate and engine hood...
To help prevent moisture from forming in the fuel system and the risk of its freezing, use of an antifreeze additive in the fuel tank is recommended during cold weather. Use only additives that are specifically designed for this purpose. When an antifreeze additive is used, its effect lasts longer if the tank is refilled whenever the fuel level reaches half empty...