Subaru Forester: Keys and doors / Keys
NOTE
For models with "keyless access with push-button start system", refer to "Keyless access with push-button start system".
The following keys are provided with the vehicle.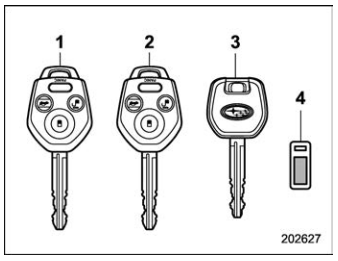 Master keys
Sub key
Key number plate
A key can be used in the following locations.
Ignition switch
Driver's door
Glove box
The valet key fits only the ignition switch and door locks. You can keep the glove box locked when you leave your vehicle and valet key at a parking facility.
NOTE
Locking/unlocking using the remote keyless entry system can also be controlled with the buttons on the key. For details, refer to "Remote keyless entry system".
CAUTION
Do not attach a large key holder or key case to either key. If it bangs against your knees while you are driving, it could turn the ignition switch from the "ON" position to the "ACC" or "LOCK" position, thereby stopping the engine.
Key number plate
The key number is stamped on the key number plate attached to the key set. Write down the key number and keep it in another safe place, not in the vehicle. This number is needed to make a replacement key if you lose your key or lock it inside the vehicle. Refer to "Key replacement".
The following access key fobs are provided with the vehicle. Access key fobs Key number plate The "keyless access with push-button start system" allows the following functions to be performed when the access key fob is being carried...
Other information:
The catalytic converter is installed in the exhaust system. It serves as a catalyst to reduce HC, CO and NOx in exhaust gases, thus providing cleaner exhaust. To avoid damage to the catalytic converter: Use only unleaded fuel. Even a small amount of leaded fuel will damage the catalytic converter...
Your key number plate will be required if you ever need a replacement key made. Any new key must be registered for use with your vehicle's immobilizer system before it can be used. The maximum number of keys that can be registered for use with one vehicle is as follows...