Subaru Forester: Outside mirrors / Convex mirror (passenger side)
WARNING
Objects look smaller in a convex mirror and farther away than when viewed in a flat mirror. Do not use the convex mirror to judge the distance of vehicles behind you when changing lanes. Use the inside mirror (or glance backwards) to determine the actual size and distance of objects that you view in convex mirror.
CAUTION
Make sure to adjust the mirrors before driving.
: Select side to adjust : Direction control The remote control mirrors operate only when the ignition switch is in the "ON" or "ACC" position...
Other information:
By operating the access key fob If you have registered a PIN code for PIN Code Access, you can disable the keyless access function by operating the access key fob. For details about registering a PIN code, refer to "Unlock using PIN Code Access"...
WARNING Always maintain a safe driving speed according to the road and weather conditions in order to avoid having an accident on a sharp turn, during sudden braking or under other similar conditions. Always use the utmost care in driving – overconfidence because you are driving an All-Wheel Drive vehicle could easily lead to a serious accident...
Categories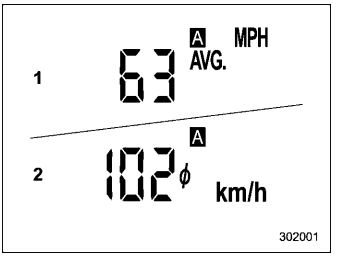 When units in miles is selected When units in km is selected
This display shows the average vehicle speed since the trip meter was last reset. Pressing the TRIP RESET switch toggles the display between the average vehicle speed corresponding to the A trip meter display and the average vehicle speed corresponding to the B trip meter display. When either of the trip meter displays is reset, the corresponding average vehicle speed value is also reset.