Subaru Forester: Maintenance and service / Engine hood
CAUTION
Be extremely careful not to catch fingers or other objects when closing the engine hood.
Do not push the hood forcibly to close it. It could deform the metal.
Be extremely careful opening the engine hood when the wind is strong. The engine hood could close suddenly, possibly causing injuries from slamming.
Do not install accessories other than genuine SUBARU parts to the engine hood. If the engine hood becomes too heavy, the stay may not be able to support holding it open.
Check that the end of the hood stay is inserted into the slot. If it is not inserted properly, the hood may drop and cause injury.
To open the hood:
If the wiper blades are lifted off the windshield, return them to their original position.

Pull the hood release knob under the instrument panel.

Release the secondary hood release by moving the lever between the front grille and the hood toward the left.

Grip

Lift up the hood, release the hood prop from its retainer and put the end of the hood prop into the slot in the hood. Hold the grip to handle the hood prop.
To close the hood:
Lift the hood slightly and remove the hood prop from the slot in the hood and return the prop to its retainer.
Lower the hood to a height of approximately 5.9 in (15 cm) above its closed position and then let it drop.
After closing the hood, be sure the hood is securely locked.
If this does not close the hood, release it from a slightly higher position.
WARNING
Always check that the hood is properly locked before you start driving. If it is not, it might fly open while the vehicle is moving and block your view, which may cause an accident and serious bodily injury.
Brake fluid reservoir Fuse box Battery Windshield washer tank Engine oil filler cap Engine coolant reservoir Radiator cap Engine oil filter Engine oil level gauge Air cleaner case ..
Other information:
The brake system warning light will illuminate when the vacuum pressure sensor is malfunctioning or brake booster pressure is decreasing. If the brake warning light continues to illuminate for several minutes after starting the engine, there may be a malfunction in the vacuum system...
With the ignition switch turned to the "ON" position, this device reminds the driver and front passenger to fasten their seatbelts by illuminating the warning lights in the locations indicated in the following illustration and sounding a chime...
Categories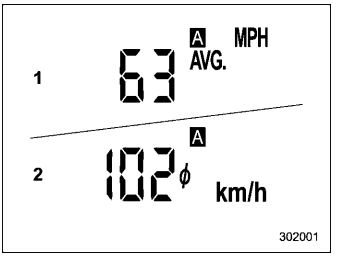 When units in miles is selected When units in km is selected
This display shows the average vehicle speed since the trip meter was last reset. Pressing the TRIP RESET switch toggles the display between the average vehicle speed corresponding to the A trip meter display and the average vehicle speed corresponding to the B trip meter display. When either of the trip meter displays is reset, the corresponding average vehicle speed value is also reset.