Subaru Forester: Multi-function display (black and white) / Outside temperature indicator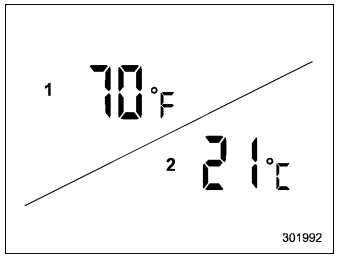 U.S.-spec. models
Except U.S.-spec. models
NOTE
The outside temperature indicator shows the temperature around the sensor. However, the temperature may not be indicated correctly or the update may be delayed in the following conditions.

While parking or driving at low speeds
When the outside temperature changes suddenly (example: when going in and out of an underground parking area or when passing through a tunnel)
When starting the engine after being parked for a certain period of time

The temperature unit cannot be changed.
Road surface freeze warning indication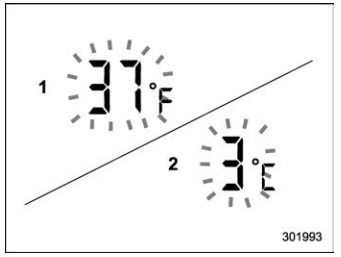 U.S.-spec. models
Except U.S.-spec. models
When the outside temperature drops to a certain temperature or lower, the temperature indication flashes for 5 seconds to show that the road surface may be frozen. If the display is already indicating that the outside temperature is low when the ignition switch is turned to the "ON" position, the indication does not flash.
NOTE
The outside temperature indication may differ from the actual outside temperature. The road surface freeze warning indication should be treated only as a guide. Be sure to check the condition of the road surface before driving.
X-MODE indicator This indicator will be shown while the XMODE is activated. It will turn off when the X-MODE is deactivated. Clock For details about clock setting, refer to "Clock"...
Other information:
Use a soft, damp cloth to clean the climate control panel, audio equipment, instrument panel, center console, combination meter panel, and switches. CAUTION Do not use organic solvents such as paint thinners or fuel, or strong cleaning agents that contain those solvents...
The following lights have an automatic illumination function. Dome light Map light Cargo area light Rear gate light (if equipped) When the interior light switch is set to the "DOOR" position, the light will automatically turn on and turn off depending on the locking and unlocking of the doors, the opening and closing of the doors including the rear gate, as well as the position of the ignition switch...
Categories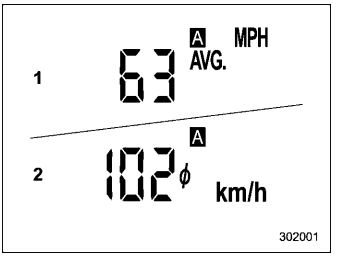 When units in miles is selected When units in km is selected
This display shows the average vehicle speed since the trip meter was last reset. Pressing the TRIP RESET switch toggles the display between the average vehicle speed corresponding to the A trip meter display and the average vehicle speed corresponding to the B trip meter display. When either of the trip meter displays is reset, the corresponding average vehicle speed value is also reset.