Subaru Forester: Loading your vehicle / Roof tent (models with roof rails)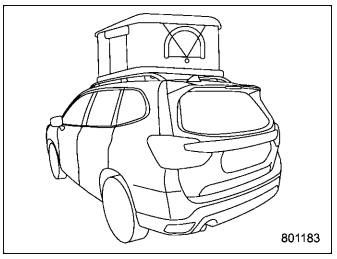 WARNING
Adding weight to the vehicle's roof can adversely affect handling, braking, and rollover resistance. The vehicle must never be driven with a total roof rail load in excess of 176 lbs (80 kg).
CAUTION
The roof rail load limit for stationary vehicles (700 lbs (317 kg)) applies only when the vehicle is parked and the load is evenly distributed left/right and front/ rear and the roof crossbars and roof tent are tightly secured to the vehicle. If these conditions are not met, the load limit will be lower.
The maximum load limit of the roof crossbars must be obtained from the manufacturer or retailer of the roof rack. When driving the vehicle, the maximum roof rail load is 176 lbs (80 kg) or the crossbar load limit (whichever is lower).
Roof tents can only be used on vehicles originally equipped with roof rails. Otherwise, damage to the vehicle's roof may occur.
On vehicles equipped with roof rails, roof tents may be used under certain conditions at your own risk.
The total weight on the roof rails, including the roof crossbars and roof tent, must not exceed the vehicle's roof rail load of 176 lbs (80 kg), evenly distributed...
Other information:
The temperature grades are A (the highest), B, and C, representing the tire's resistance to the generation of heat and its ability to dissipate heat when tested under controlled conditions on a specified indoor laboratory test wheel. Sustained high temperature can cause the material of the tire to degenerate and reduce tire life, and excessive temperature can lead to sudden tire failure...
U.S.-spec. models FCC ID: HYQ14AHK FCC ID: Y8PSSPIMB02 FCC ID: Y8PFJ16-1 CAUTION FCC WARNING Changes or modifications not expressly approved by the party responsible for compliance could void the user's authority to operate the equipment...
Categories
Free/Open Source Software Information
This product contains Free/Open Source Software (FOSS).
The license information and/or the source code of such FOSS can be found at the following URL.
http://www.globaldenso.com/en/opensource/ivi/subaru/