Subaru Forester: Manual seat (if equipped) / Seat height adjustment (driver's seat)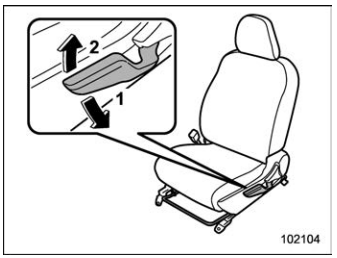 When the lever is pushed down, the seat is lowered.
When the lever is pulled up, the seat rises.
The height of the seat can be adjusted by moving the seat adjustment lever up and down.
Other information:
The journey time shows the time that has elapsed since the ignition switch was turned to the "ON" position. The journey time indication flashes each time a complete hour has elapsed. If the display is giving a reading other than the journey time, the display switches to the journey time, flashes for 5 seconds, and returns to its original reading each time a complete hour has elapsed...
Grease, wax, insects, or other material on the windshield or the wiper blade results in jerky wiper operation and streaking on the glass. If you cannot remove the streaks after operating the windshield washer or if the wiper operation is jerky, clean the outer surface of the windshield (or rear window) and the wiper blades using a sponge or soft cloth with a neutral detergent or mildabrasive cleaner...