Subaru Forester: Remote engine starter transceiver (fob) / Stopping the engine
Press and hold the fob button for at least 2 seconds to stop the engine. The fob will flash and beep three times, indicating the engine has stopped. If the stop request is not received (for example, if the user is too far away from the vehicle), the fob will continue to flash once every 3 seconds. The system will automatically stop the engine after 15 minutes.
For safety and security reasons, the remote engine start system will prevent starting (or stop the engine if running) and sound the horn twice if any of the following conditions is detected...
Other information:
Temperature control Turn the temperature control dial to set the preferred interior temperature. NOTE The controllable temperature range may vary depending on the regional specifications of the vehicle. SYNC mode (type B) When the SYNC mode is turned on, both the driver's and front passenger's side temperatures are synchronized using the driver's side temperature control dial...
You can initialize the items that have been set to your preference. Select "Initialize" from the 2nd menu on the setting screen. Refer to "Setting screen". Select "Yes" or "No" by using the control switches. NOTE You cannot initialize the items if the Driver Monitoring System is not operated...
Categories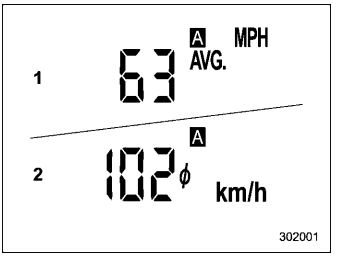 When units in miles is selected When units in km is selected
This display shows the average vehicle speed since the trip meter was last reset. Pressing the TRIP RESET switch toggles the display between the average vehicle speed corresponding to the A trip meter display and the average vehicle speed corresponding to the B trip meter display. When either of the trip meter displays is reset, the corresponding average vehicle speed value is also reset.