Subaru Forester: Cargo area cover (if equipped) / Using the cover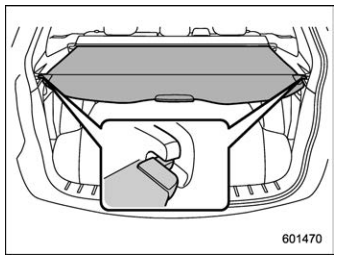 To extend the cover, pull the end of the cover out of the housing, then insert its hooks into the catches as shown. To rewind it, unhook it from the catches and it will rewind automatically. You should hold on to the cover and guide it back into the cover housing while it is rewinding.
WARNING
Do not place anything on the extended cover. Putting excessive weight on the extended cover can break it and an object on the cover could tumble forward in the event of a sudden stop or collision. This could cause serious injury.
CAUTION
Be careful not to scratch the rear gate stays while extending and rewinding the cover. Scratches on the stays could cause leakage of gas from the stays, which may result in their inability to hold the rear gate open.
CAUTION For models with a reclining rear seatback, when reclining, move the front part of the cover back so that it is not damaged. Align the right side of the front cover with the triangle mark before fixing the cover in place...
Other information:
The warning light illuminates if any door or the rear gate is not fully closed. This function is effective even if the ignition switch is in the "LOCK"/"OFF" or "ACC" position, or the key is removed from the ignition switch. For some models, only the open doors are indicated by the warning lights...
If towing is necessary, it is best done by your SUBARU dealer or a commercial towing service. Observe the following procedures for safety. WARNING Never tow AWD models with the front wheels raised off the ground while the rear wheels are on the ground, or with the rear wheels raised off the ground while the front wheels are on the ground...