Subaru Forester: Seat, seatbelt and SRS airbags / Child restraint systems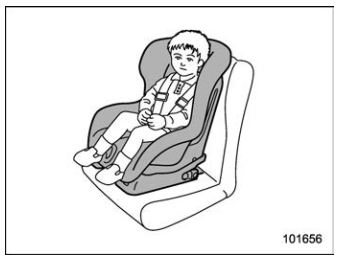 Infants and small children should always be placed in an infant or child restraint system in the rear seat while riding in the vehicle.
You should use an infant or child restraint system that meets Federal Motor Vehicle Safety Standards or Canada Motor Vehicle Safety Standards, is compatible with your vehicle and is appropriate for the child's age and size.
All child restraint systems are designed to be secured in vehicle seats by lap belts or the lap belt portion of a lap/shoulder belt (except those described in "Installation of child restraint systems by use of lower and tether anchorages (LATCH)".
Children could be endangered in an accident if their child restraints are not properly secured in the vehicle. When installing the child restraint system, carefully follow the manufacturer's instructions.
According to accident statistics, children are safer when properly restrained in the rear seating positions than in the front seating positions.
All U.S. states and Canadian provinces require that infants and small children be restrained in an approved child restraint system at all times while the vehicle is moving.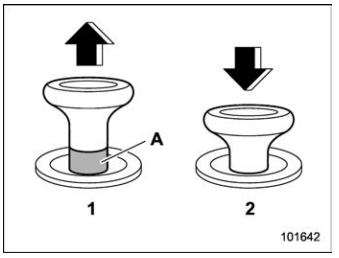 Lock release knob
Unlocked
Locked
Unlocking marker in red
WARNING
Before installing a child restraint system, be sure to confirm that the seatback is securely locked into place. Otherwise, in an accident, serious injury or death could result.
Do not leave children in the car unattended. High interior temperatures may cause heat stroke and dehydration that result in serious injury or death.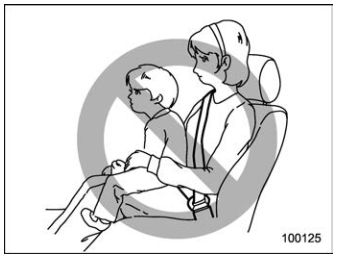 WARNING
Never let a passenger hold a child on his or her lap or in his or her arms while the vehicle is moving. The passenger cannot protect the child from injury in a collision, because the child will be caught between the passenger and objects inside the vehicle.
Additionally, holding a child in your lap or arms in the front seat exposes that child to another serious danger. Since the SRS airbag deploys with considerable speed and force, the child could be injured or even killed.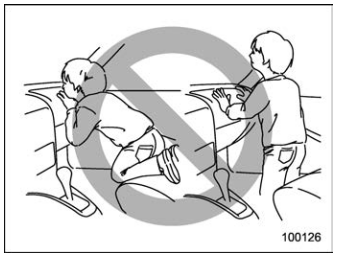 WARNING
Children should be properly restrained at all times. Never allow a child to stand up, or to kneel on any seat. Unrestrained children will be thrown forward during sudden stop or in an accident and can be injured seriously.
Additionally, children standing up or kneeling on or in front of the front seat are exposed another serious danger. Since the SRS airbag deploys with considerable speed and force, the child could be injured or even killed.
This function prompts the driver to confirm the presence of passengers and cargo in the rear. This function will be activated when the rear doors are opened and closed. It alerts the driver by warning messages on the combination meter display (color LCD) and beeps when the ignition switch is i..
WARNING Do not use a seatbelt extender. If a seatbelt extender is used when installing a child restraint system, the seatbelt will not securely hold the child restraint system...
Other information:
Change the oil and oil filter according to the maintenance schedule in the "Warranty and Maintenance Booklet". The engine oil and oil filter must be changed more frequently than listed in the maintenance schedule when driving on dusty roads, when short trips are frequently made, or when driving in extremely cold weather...
Occupant detection system sensors The occupant detection system sensors are installed between the seat and seat rails, and monitor the physique and posture of the front passenger. Using this information, the occupant detection system determines whether the front passenger's SRS frontal airbag should be deployed or not...