Subaru Forester: Using HomeLink / Using Two-Way Communication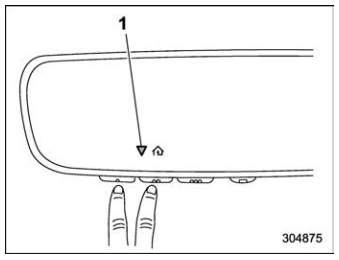 Status Indicators
Recall and display (at any time) the last recorded garage door status message communicated to HomeLink by simultaneously pressing HomeLink buttons 1 and 2 for two seconds. HomeLink will display the last recorded status for three seconds.
Garage Door Opener CLOSING (Blinking Orange)
Garage Door Opener CLOSED (Solid Green)
Garage Door Opener OPENING (Blinking Orange)
Garage Door Opener OPENED (Solid Green)
If two-way communication programming is successful, HomeLink will display the status of your garage door opener with arrow indicators.
Status Indicators Within five seconds after programming a new HomeLink button, both of HomeLink's garage door status indicators will flash rapidly green indicating that the garage door two-way communication has been enabled. If your garage door status indicators flashed, two-way communicati..
In the event that there are still programming difficulties or questions, additional HomeLink information and programming videos can be found at www...
Other information:
Speedometer The speedometer shows the vehicle speed. Tachometer The tachometer shows the engine speed in thousands of revolutions per minute. CAUTION Do not operate the engine with the pointer of the tachometer in the red zone. In this range, fuel injection will be cut by the engine control module to protect the engine from overrevving...
Passenger compartment area Lower anchorages for child restraint system Seatbelts Front seats Rear seats Power window switches Door locks Select lever USB power supply Front power supply socket Glove box Cup holder Center console Button for SUBARU STARLINK Moonroof switch Electronic parking brake switch Auto Vehicle Hold switch X-MODE switch Front seat heater switches USB power supply Rear seat heater switches NOTE F o r m o d e l s w i t h S U B A R U STARLINK: Refer to the Owner's Manu a l s u p p l e m e n t f o r S U B A R U STARLINK...
Categories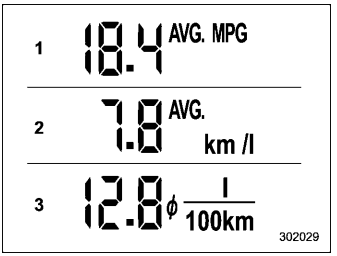 Displays the driving range per gallon of fuel Displays the driving range per liter of fuel Displays the fuel consumption per 100 km
This display shows the average rate of fuel consumption since the trip meter was last reset.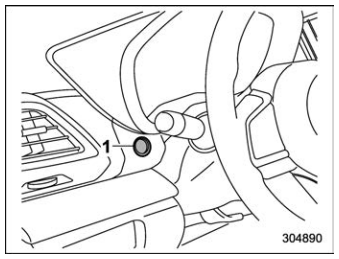 TRIP RESET switch